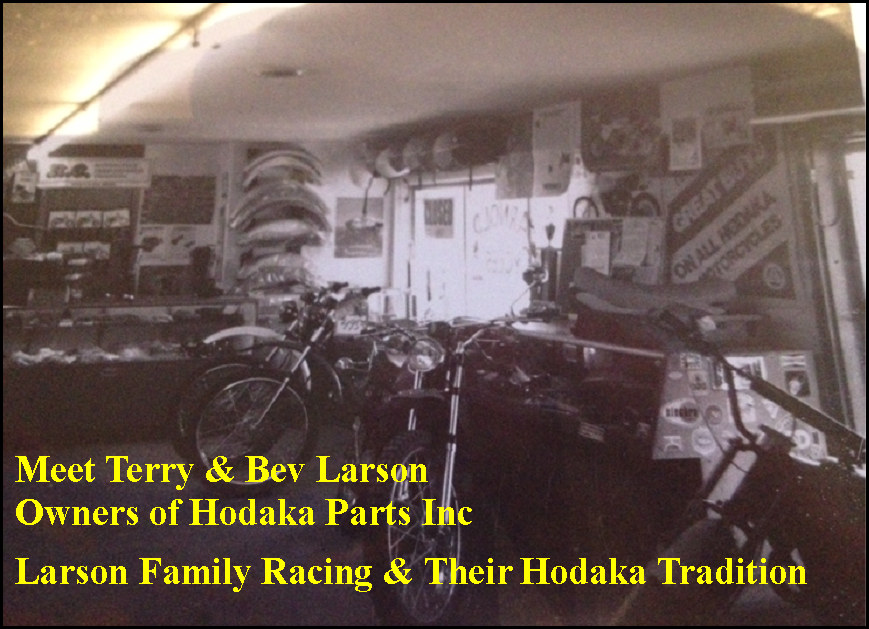 Terry and Bev Larson / Co-CEO's of Hodaka Parts Inc
The Larson Family History with Hodaka
from 1972 to Present Day
Where it all began; Arnold Cycle, Arnold Missouri / 1972
Rich Larson the father of Terry Larson was one of the original Hodaka dealers back in the day and he ran his shop out of Arnold Missouri from 1972 to 1985.

As a marketing tool Rich used competition racing and he sponsored Hodaka riders through his shop.

Lucky for him he had three volunteers in his son's Terry, Mike and Larry.

All three raced Hodaka's during that period and the boys sold a lot of bikes for Rich.
Today Rich is retired but he continues to enjoying life seeing two of his son's racing Hodaka's. Terry and his brother Mike continue the Hodaka racing tradition with a highly successful team of riders they put together under the banner Two Brothers Racing and they compete in Vintage AHRMA, AMA motocross and Cross Country events throughout the country.


What started out as a family Hodaka shop out of Arnold Missouri 42 years ago has come full circle and now Terry and his wife Bev Larson are co-Chief Executive Officers of Hodaka Parts Inc. Adding more resume material to the tradition of the Larson lineage with the Hodaka, Terry and Bev bought Strictly Hodaka from Paul Stannard in July of 2018.

Back in March 2014 Hodaka Parts Inc (HPI) was lucky enough to become aligned with the Two Brothers Racing team and HPI became one of the teams primary sponsors. It was back in 2014 that I did an interview with Terry to talk about his Hodaka racing background with out either of us knowing that in a few short years he would not only continue to dominate the race circuit on Hodaka's but that he would become the world's holder of Hodaka parts and own the rights to the Hodaka logo.
This is an excellent read and it'll give you an understanding who is running Hodaka Parts Inc.
March 2014 Interview with Bill Cook and Terry Larson

Bill: Terry, I'd like to hear a little bit about your background, where you came from, and talk some about your family's history with Hodaka's.
Terry: Bill, we started back in 1971 out of a shop in South County, right in the suburbs in St. Louis, Missouri called South County Hodaka. I was running a DKW out of there and a bunch of the other guys I rode with were running Hodaka's, so that got me interested in Hodaka's. My dad had talked to the owner of South County Hodaka and heard that Hodaka was looking for other dealers. He checked with Hodaka and then became a dealer for the Hodaka Pabatco brand. The name of our shop was Arnold Cycles in Arnold Missouri. He was Hodaka dealer number 350.
Bill: This was in 1972?
Terry: Yes, Dad opened the shop sometime during the spring of 1972.
Bill: 1972 puts it right before the 125 Hodaka's and right at the peak of the 93 Super Rat doesn't it.
Terry: Correct and that's right we really got interested in Hodaka's because of the Super Rat. That's when they were starting to show up at the local tracks and it just seemed to be a good market. Dad wanted to get into it and we got the dealership.
Dad opened up the shop, like I said it was called Arnold Cycles, because we carried more than Hodaka. We had Carabela, Cooper, Indian's, Tri-Sports, Can Am's and others.
Bill: Gee, Can Am, Cooper, Hodaka…. what a line up.
Terry: Yes.
Bill: All dirt?
Terry: It was all dirt because at that time, all the big guys were all taken up. There were no dealerships available for Yamaha and stuff like that and we weren't really interested in street. We were a dirt oriented family. In fact, my very first bike was a 1968 Penton 125, 68 Six Day Trials bike. It was Dave Mungenast's Penton and boy, I wish I had that bike back because it was Dave's bike from when he ran in the ISDT. I'd love to have that bike.
Bill: What a nice bike to have had huh?
Terry: Yeah it was. It had the green tank with the white inserts. It was just neat. The only problem was it had neutral between every gear.
Bill: Yep.
Terry: I learned how to ride real well with that Penton and we lived in South County actually in a little town called Oakville. We had all these woods behind our house and it was nothing at all to go back in these woods and go riding. There were plenty of trails and we had what you may call a big dip back there, which was like a hill that you had to climb out of.
If you would go back there on any given weekend there would be 100 to 200 bikes riding in the woods. It was a blast and that's how we really learn how to ride bikes. My brothers had QA 50's and I had the Penton and then from there, I went to the DKW and then once Dad opened up the shop we all started riding Hodaka's.
Bill: How many brothers do you have?
Terry: I have two brothers. Mike is the middle brother. Larry is my youngest brother. They both ran AMA mini-cycle championships. They ran all over the country on the mini cycles and then when Mike got old enough and he started riding the big bikes in District 18.
Bill: You started racing on the chrome tank 93 Super Rat?
Terry: Right, that was the first bike I raced. The 19 inch front wheel, 18 inch rear wheel, chrome tank Super Rats. We ran those all over the mid-west and did very, very well with them.
We sold a lot of them for the shop. One of our gigs was that we would take a bike to the track in our van. I had a new Dodge van and when we got to the track we slid a crated Super Rat out of the back. We'd put it together right in the pits, race it that day, and then somebody could buy it at the races or put a deposit on it and come down to the shop and pick it up the next day. They were buying a race proven bike. Or if they wanted, they could come down and buy a brand new bike off the showroom floor but we sold a heck of a lot of race bikes that way.
Bill: You probably got paid pretty good by the shop owner then didn't you?
Terry: Not really. It was more like a few dollars a week and all the parts I could use on my bikes. And I guarantee you my bikes were always the best looking bikes on the track.
Bill: Yep, and you had a full time mechanic and doing the wrenching?
Terry: Yes, we had quite a few really good mechanics at the shop and I learned a lot from them. We had guys that were innovators on things. We had mono shock Hodaka's, we had a mono shock Steen, we even had an automatic Steen's that was a Chrysler motor. Chrysler had given us two motors to test and one was an automatic Steen. We did air cooled, some water cooled and stuff like that. You name it. We changed a lot of things around.
In 1973 AMA didn't have any rules as far as frames. They just had motor sizes for your classes. So when Hodaka came out with a 125 Wombat that gave us other options. We stripped off all the lights and everything off the Wombat and that way, we had a longer frame, 21 inch front wheel. We took everything off my race bike and put it on a Wombat frame and that bike was a jet. We won lots of races and a couple of championships that year.
Bill: It must have been a lot of fun huh?
Terry: Oh it was a lot of fun. We were always going from one race to another. Like I said, we lived here in the Midwest; District 18 was our main district, District 17 which was Northern Illinois. We even raced Tuesday nights over at Belleville, Illinois inside a barn.
Bill: Wow, I remember the barn races in Belleville. That was the short track.
Terry: Yeah, we used to do that. We did that on our Hodaka's and we were kicking some butt over there with Randy Sheckel and the Kohot boys. We were going over there and just beating up on the short track bikes. Every week, we'd go back they'd make a new rule. First we had to take off our front brake off, next we had put rubber foot pegs on, then we had to take our fenders off.
Unfortunately or fortunately for us, every time we won Cycle News would say that the MX motocross guys were beating the short track guys in the barn and they didn't like that.
Bill: Yeah, I remember those times. That was great.
Terry: Finally they outlawed our motocross bikes, so we quit going over there. But I'd be racing on Tuesday night at the barn, Friday night at Shurfoot Speedway in Imperial, Missouri. Saturday and Sunday we could always find a place to race. We had anywhere from three to five races a week that we could race back then.
Bill: The Midwest scrambles were more of a short TT race without the junk right? That was very common back then.
Terry: Right.
Bill: Well groomed tracks.
Terry: Yes.
Bill: Lights, you ran Friday night lights?
Terry: Shurfoot was a motocross track that had lights. We raced motocross there.
Bill: BET had a beautiful track and lights didn't they.
Terry: We'd be racing at BET and that would be on Saturdays. We'd run over to BET and yes, it was more like a scrambles. Hand on the helmet, rubber band tight start.
Big sweeping curves with just a little bit of I guess you could call it a jump that you go over. It was just more of a flat little mound that you would go over just to break it up but yes, BET on Saturday nights was a good place to be.
Bill: Coming around at the finish, it had that long sweeping left hander.
Terry: Yes.
Bill: Coming around that you could really crank it up.
Terry: Yes, you could and a lot of guys lost it in there because they were just … over powering it and yeah, it was fun. Like I said, back then we had a great time.
In '74, Hodaka came out with just a full blown race bike in the Super Combat. And it was the Hodaka's going after the Elsinore's and the Yamaha's. I was fortunate enough to have the first Super Combat that came into the Midwest from our distributor Bill's Hodaka up in Mexico, Missouri. We had the first bike and everybody got sick when they first saw it. It had an orange tank, blue frame. Since we were used to the chrome tanks we couldn't believe how ugly the orange tank and blue frame bike was. A lot of us put the plastic tanks on our bikes and stuff like that.
Yes, it was different looking but boy it was so fast right out the box. We just kicked butt with it. We won a couple of races right here in St. Louis and then I went out to Colorado and I won out there and everybody is like "Holy cow, these bikes are for real." I ended up racing really good that year. I did very well on it. I can't remember exactly what position I finished up in overall District 18. I think it was 3rd or 4th. I finished 1st in the 125 class.
Then I was approached at the end of the '74 season by some of the guys down at Widman Harley Davidson. They we're Bultaco dealers and Bultaco was looking for some team riders to test their 125 sportsman bikes. They came to me with the Bultaco offer and I was fortunate enough to get on a 125 Bultaco Pursang for 1975. It was a factory bike, they only made 100 of them. It was a left handed shift, 28 horsepower with titanium and magnesium parts on it. The thing was just a jet but it had a lot of transmission problems because they were switching over from right side to left side shift and there were some issues with that but I ran the Bultaco all over. I ran in a couple of 125 Trans Am qualifiers for AMA and I did well.
Actually I ran down in Arkansas to where I was able to get enough points where I could run in the St. Louis race up at Cycle World. I ran up there in the 125 support class. I had a blast on the 125 Bultaco. I still had my Hodaka's; I still played with them on the side because with dad having the shop, I didn't want to leave him. At the end of the season, I turned the Bultaco back in. There again too, that's a bike I wish I had but it was owned by Bultaco so I couldn't keep it. They got it back and then I continued to ride in the Super Combats. Unfortunately, I had a really bad crash on my Super Combat at a local track at Riverdale.
I spent quite a few days in the hospital and it made me think a little bit. At that time, I was thinking about getting married and so after I've been in the hospital for a while, getting back on the track I didn't feel really right anymore and about mid-season of 1976, I walked in the shop and quit and said I'm not going to race no more and everybody thought I was joking but I didn't get back on the bike. I kept my bike in the garage. I got married in '76 to the love of my life who I met at the race track and we had a child together who raced also. Bikes just weren't appealing to me no more. We got into racing funny cars and dragsters. We did some off road four wheel racing and then I gave up racing completely.
Bill: Okay, so how did you get from there to here? I mean most of us including me and a lot of other people, all of a sudden you turn whatever 25 or so and then it's all career and family. Then you look up and see that 40 years have passed. You're starting to look at your bike that you probably still have in your garage or in your shop and you go "Hey, you know what? I had a lot of fun with that" and you start digging it out. So how did you get back to it again?
Terry: The fall of 2011 or I just say late summer of 2011 my brother calls me up. Mike, who had continued to race hair scrambles and a little motocross says "Hey, they're having a vintage motocross event at Bourbon, Missouri. I only 20 miles from there. I'm like "A vintage motocross." I said I never knew they were doing any of this. "Oh yeah," he said again. "Back to the old bikes" and he's saying that we had to go out there and just hang out and see what's going on.
We went out there, his wife and my wife and we pulled up and it was just like "Oh my gosh". All the Husqvarna's, all the old Suzuki's, Yamaha's, and then I saw a couple of Hodaka's. We started walking around and all of a sudden these people are all coming up and going "Hey, it's the Larson boys" and da-da-da and they started talking to us about racing and all of that kind of stuff. Fifteen minutes later me and Mike looked at each other and said "We've got to get back into doing this". Then our wives said "Oh my gosh". We looked like two kids that got left in the candy store overnight.
We stayed at the races until they kicked us out of there. We went back home and started talking about it. We needed to start racing and wanted to run Hodaka's because that's what we grew up on. I still had my old bike but it was kind of in bad shape from sitting around for all those years. We ended up looking around and I found two race ready bikes in Tampa, Florida; a 1974 Super Rat and 1974 125 super combat. We drove down and bought those and brought those back to Missouri.
We did a little modifying on the swing arm and got them race ready in the spring of 2012, we started racing the MOVX series which is the Missouri Off Road Series that's run by Curtis Harper here in Missouri. Right out of the bat, we had a blast. Lots of people had come by and taking pictures of the Hodaka's because they looked bone stock. They just looked really great but they only had a few modifications. Lots of people came over and they were reliving their childhood saying "Oh, I had a Hodaka when I was a kid" and lots of pictures were taken.
We continued to ride the MOVMX series and fortunately, we both won our classes the first year out. I won the 125 class and Mike won the 100 class. We got a chance to run an AHRMA event that year to. Again, it was at Bourbon so we went out and ran the AHRMA event and that was really cool to go out and run against guys from all over the country, all different types of bike, all different types of skill levels and that.
In Bourbon Mike ended up winning his class on his Super Rat and I ended up taking second place on my Super Combat behind a guy that rode the MOVMX series on a Suzuki. It was pretty neat. Both of us ride the MOVMX series which is a great series for anybody who wants to come out. People need to check it out if they're thinking about vintage racing. It's really vintage friendly and a lot of fun.
Curtis Harper is the promoter and he wants to make sure the tracks are vintage friendly and that we have a great time. It's just a great group of people. We've met many old friends and we've made a lot of new friends. As that went along we started talking to some people we knew about their getting interested in racing vintage motocross and I guess that's kind of how we got set up here with our team.
Bill: So the team thing took you one step further. You didn't leave the MOVMX but that spurred you on the other things and all of a sudden, you've got a flock of people that are riding Hodaka's that you're shepherding around.
Terry: Correct. Yes, we had a couple of fellow riders that kind of hung out with us at the track and actually one of my brother's friends, Greg Pacini raced hair scrambles with Mike. Mike would just tell him how much fun we're having racing in vintage motocross and so he wanted to get into. He bought a '74 Yamaha MX360 and he came out riding with this. We had a couple other fellow competitors in the MOVMX that we hung out with at the races. Tim Borgfield and Todd Rapp out of Jackson, Missouri and their two sons that race also. We started hanging together at the races and talking and everything.
The next thing you know, we started talking about "You know we've got to form a team." It was me and my brother Mike we had formed 2 Brothers Racing. We'd go to the races together and then Greg started to come along with us with his Yamaha. The next thing we've started talking about was forming a full team that we could get better exposure for not only the team but for the Hodaka brand, our sponsors and just the vintage racing in general.
Bill: How many riders do you have total on the team right now?
Terry: Right now, we have six adults and two youths. Out of the six adults, we have five that are running Hodaka's. Plus they're also running some post vintage other bikes, like the Yamaha and the Suzuki. In the six adults we have novice, intermediate and expert class riders. Then we have the two youths. One is riding a '65 CC Suzuki and the other boy is running a four stroke Honda.
Bill: That's a great family thing to do isn't it?
Terry: Yes, it's great. We'd bring these boys out because they're our future generation of racing and you've got to keep things going with them and both the youths are just so excited about being on a team. That's all they talk about. Tim's son, Reed Borgfield, he raced both in the Peewee class on the KTM50 and then he also raced the Suzuki '65 this last year. He had to retire that KTM50 because he was too old. That was his last year racing the KTM but in the three years that he raced, he had never lost a race and he had only been beaten to the first turn one time and by the second turn, he was in front again.
He finished up undefeated for three years on the KTM50 and he was running against six, seven, eight, sometimes 10 of the kids out there and he's just a fast little rider and he's going to be the future for our sport. I'd like to get him on a Hodaka 80 or maybe a Steen with an 80 engine or something like that. One that he can ride in the AMA Vintage, they have to be at least 12 years old to run that.
Bill: We're going to have to talk about sponsorship on this.
Terry: He just turned 11 so he's got another year or two. Todd's son, Jordan same way, he won Missouri state championship on the youth for this year. He's an upcoming rider. That's all he talks about.
We have team shirts that we wear at our awards ceremonies and he's wore it so much to school that he's about wore it out. These guys are the future of our team. We're having a great time having all these different riders out there and having a team that we can promote not only Hodaka but the sport as much as possible. It means a lot to teach the young guys about ethics and being part of a team.
Bill: The way that you have it with your dad, once owning the shop, yourself, your brother, and the kid's racing shows you what a terrific family sport it is, doesn't it?
Terry: It is. It was a family sport back in the 70's when we started racing and it's the same now as much as ever. It's great to get everybody involved. My dad's 79 years old and he's gone to every one of our MOVMX races. Unfortunately he hasn't traveled with us to some of the ARMA events because it's too far out and we stay a lot of times at the track and he doesn't want to camp out. He's been our support with us for this whole time.
Bill: Yeah that's great. Now the cost of this isn't small is it? Anybody that races understands out of pocket cost for going to an event. But now you're carrying around a whole group and you've got a trailer. How much does something like this cost to put on for a year. How big is your trailer? How many bikes can you carry?
Terry: What we had been using ... our small trailer is ... will hold seven bikes and we're in the process of changing. I just bought a new 30 foot trailer that we're converting over to this. It'll kind of handle somewhere between 10 and 15 bikes plus all our gear and some sleeping accommodations and so forth. It's kind of more expensive from back when we ran in the 70's. Back then the entrance fee was a couple of bucks. You signed up for $5 or $10 and the gas to get you there was a dollar a gallon. It was a lot cheaper. Nowadays just to go to a local race, a Missouri race, it's three to $700 excluding how far it, what your accommodations are and if you're sharing a ride with someone. We've sat down and kind of figured out just as a budget for the year.
A lot of times the kids won't go because unfortunately they can't run the AHRMA races because they don't have youth classes. But we sat down just penciled it in and it's upwards of 30 to $40,000 for our team to race this year.
Bill: Yeah, that's quite an undertaking isn't it?
Terry: Yes we figured each one us spent $4,000 to $5,000 last year racing and this year we're going to be hitting more events. The cost is helped by sharing the travel and things with a friend or by setting up a team.
Bill: Terry, if you do have a few people helping, I think it's a good time to maybe mention some of your sponsors. You need to have good support because it helps when you're going through tires and bars every weekend and all the other little incidentals that come up.
Out of pocket gas money is one thing but when you get to the bike and you start repairing some of the damages, it can be pretty expensive so if you want to just give a tip of the hat to the people that are doing you a little bit of good, now would be a good time to do that.
Terry: Yes, we get great support from people that are helping us with product and so forth. Last year we had Amsoil who provide us oil and Cycle Gear, Custom Shirt Graphics who did all of our t-shirts and our racing shirts. Last year our team had two national titles and we had nine Missouri state championship titles. We had a great year, we put a lot of effort into it and we represented our sponsors very well and we want to thank them for all of their help.
This year we had a few more sponsors that came on board. We have Fastenal, UFO Vintage for fenders, Clarke Racing for tanks, and LS2 America who provided us helmets. We also had JT Racing out of California helping us with our uniforms, Rip It energy drinks and again our other three sponsors that are back on board with us Amsoil, Custom Shirt Graphics and Cycle Gear. We also picked up a new sponsor that is going to help out quite a bit. Full Throttle Racing Promos is a major NASCAR and NHRA sponsor who make all of the hero handouts, flags and decals. They want to get into the motorcycle part of the business and they're sponsoring us on all of our promotional items.
Bill: That's good, that does help doesn't it?
Terry: Yes it does.
Bill: What is the first race your team will be riding in this year?
Terry: Our first race will be at Grand Cane in LA. AHRMA has a cross country on Saturday, Vintage MX on Saturday and a Post Vintage on Sunday.
Bill: Terry we wish you all the luck. Stay healthy and take care of you and your crew. Hopefully we'll be able to catch up with you after the race and get a recap of how things went in Louisiana.
Terry: Thanks Bill.
________________________________________________________________________________________
Two Brothers Racing / Team Members:
Terry Larson: Age 59 • Co-Chief Executive Officer of Hodaka Parts Inc
· Motorcycle: 1974 Hodaka 125cc Super Combat
o 2012 MOVMX 125 Sportsman Intermediate Class State Champion
o 2013 MOVMX 125 Sportsman Intermediate Class State Champion
o 2013 AHRMA 125 Sportsman Class National Champion
Brian Miller: Age 52 • Ford Engineer at Kansas City Ford Truck Assembly Plant
· Motorcycle: 1974 Hodaka 100ce Super Rat & 1974 Hodaka 125cc Super Combat
o 2013 MOVMX 100 Novice Sportsman Class State Champion
o 2013 MOVMX 125 Novice Sportsman Class State Champion
o 2013 AHRMA 100 Sportsman Class National Champion
Tim Borgfield: Age 52 • Sales & Beverage Route Manager @ KohHeld Distributing,
· Motorcycle: 1982 Yamaha 100ce & 1980 Suzulcl125
o 2010 MOVMX GP125 Expert Class Champion
o 2011 MOVMX GP125 Expert Class Champion
o 2012 MOVMX GP125 Expert Class Champion
o 2013 MOVMX PV100 Expert Class Champion
Todd Rapp: Age 45 • Business Owner at Scoots & Skates
· Motorcycle: 1974 Yamaha MX100 & SSR140TX
o 2011 MOVMX 100 Novice Class State Champion
o 2012 MOVMX 100 Novice Post Vintage Class State Champion
o 2012 MOVMX Pit Bike Class State Champion
Mike Larson: Age 54 • Service Tech at Ecolabs
· Motorcycle: 1974 Hodaka 100cc Super Rat
o 2012 MOVMX 100 Advanced Class State Champion
o 2012 MOVMX +50 Class State Champion
o 2013 MOVMX 100 Advanced Class State Champion
Greg Pacini: Age 59 • President at Pacini Counselor, LLC
· Motorcycle: 1983 Yamaha rz490
o 2013 MOVMX Ultima 500 Novice Class State Champion
Reed Borgfield : Age 10 • Student
· Motorcycle: 2012 KTM 50 & 2005 Suzuki 65
o 2011 MOVMX 7-10 Pee Wee Class Champion
o 2012 MOVMX 7-10 Pee Wee Class Champion
o 2013 MOVMX 7-10 Pee Wee Class Champion
o 2013 MOVMX 65CC Class Champion
Jordan Rapp: Age 10 • Student
· Motorcycle: SSR125A 1 & 2009 Yamaha rzss