.




Level 3 - Engine rebuild package the Models 90 92 93 94 95 96 97
Trust me, if you can paint by number's you can rebuild your Hodaka engine. This kits includes all the bearings, seals, case screws and gaskets.  All parts are identified with a cross reference to the included schematic for quick reference during assembly.  Crank assembly not included. Make sure you click on the drop down menu for the Model you are working on.

This is a rebuild package for the Models Ace 90, Ace 92B, Ace 92B+, 93 Super Rat, 94 Wombat, 95 Combat, 96 Dirt Squirt and the Model 97 Super Combat. Includes bearings, bushing, seals, O rings, case screw set and gasket set. All of the parts you receive will be marked with part number, schematic page and item number for easy assembly. We include the schematics which are enclosed in plastic slip sheets for a quick reference as you do the rebuild. Just wipe the oil off the slip sheet and the documents look like new.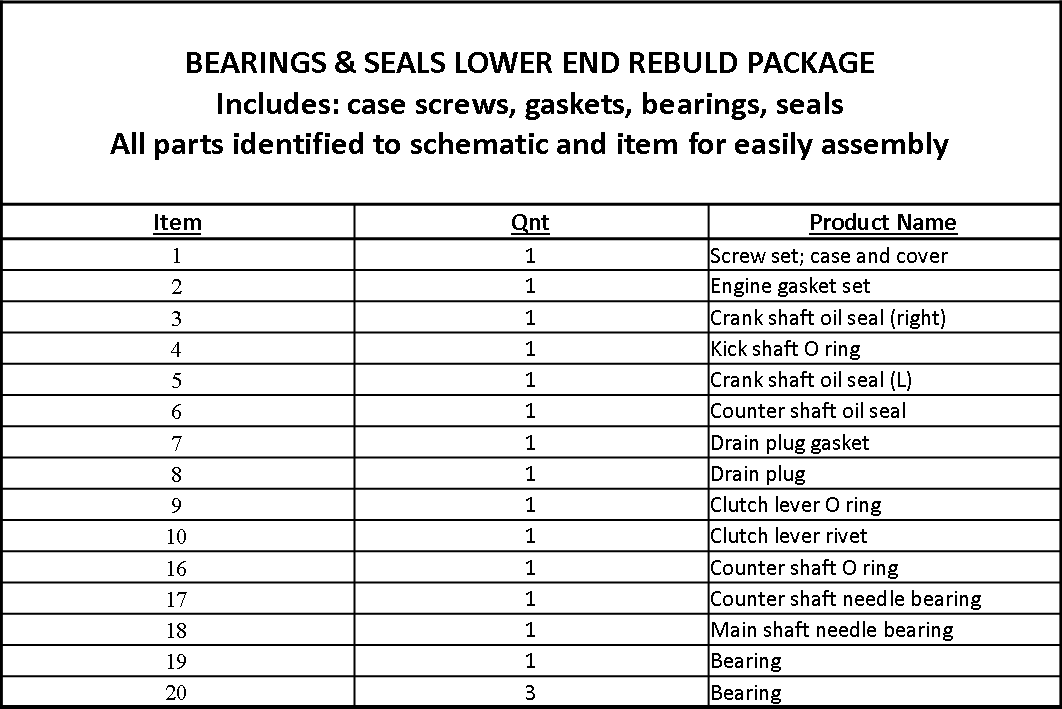 | | | |
| --- | --- | --- |
| Average Rating: | | 0.0 |


Engine rebuild package for Model 90 92 92B 92B+ 93 94 95 96 97
Trust me, if you can paint by number's you can rebuild your Hodaka engine. This kits covers all of the common needs to restore your Hodaka engine.? This includes all seals, O rings, bearings, bushings, gaskets, shifter springs and case screws. All parts are identified with a cross reference to the schematic for quick reference during assembly. Crank assembly not included. Make sure you click on the the drop down menu for the Model your are working on.
US $149.95
| | | |
| --- | --- | --- |
| | | |